Time for another Free Write Friday post, hosted by the lovely Miss Kellie Elmore
Here is your FWF prompt:
Tell me about this girl…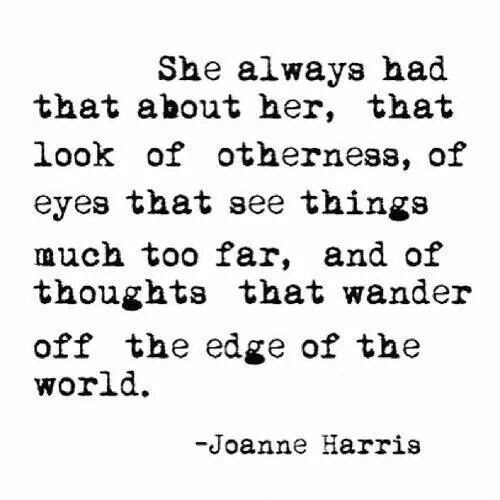 It was almost closing time when she came in, the kitchen was already closed, as it was minutes past midnight, and there was only one or two tables left.
"Sorry miss, kitchen's closed." I said as she walked over to the corner booth.
"I just want tea," she said, her eyes on the table, her words so soft I had to lean in to hear them.
I walk to the counter and make the tea, tired after 12 hours on my feet, and I look at her while the water boils. Her waist length black hair is hanging like a curtain around her, shielding her from the world, her thin frame is hunched over the table, bundled up in jackets. 
Then she looks up, and the world stands still. Her eyes are soft grey, and sad, the kind of sad that makes you want to cry along. She makes eye contact very briefly and looks away into the corner, so intrigued by the piece of wall, I had to look over to make sure there wasn't another world over there.
"Here's your tea, miss."
I put the tea down, a bit harder than necessary and a few drops spills out, drips onto her hand. But she doesn't even flinch, or react at all. Then I notice all the other marks on her hands, cuts, burns, blister, rope burns. She is still looking at that piece of wall, like there is a movie playing just for her.
"What are ya lookin' at?" I ask before I can stop myself.
She looks up to me, straight into my eyes, and I feel my heart beating faster, the eye contact is holding, more than just a few seconds this time.
"Don't you see it?" She replies, that same soft voice, making me lean in to hear the words.
"What?" I ask, confused.
Then she shakes her head, just slightly, and looks up to me again, "Thank you for the tea."
I walk away slowly, not sure what just happened, or what I will do if I stand around any longer.
"Do you know her?" I ask the shift manager, leaning against the counter on her elbows
"Ethan, dear boy, don't."
"What??" I ask, offended.
"She does this, makes people fall for her, with that sad eyes, and that breaking vulnerability, but she's fierce, and weird, and a little bit crazy."
"Aren't we all?"
"Tsk, tsk, tsk, you're already in there… all the way. She's bad news." 
I shake my head at Clare's silliness and walk over to Grey Eyes again, "ya still all right over here?"
She looks up, there's the eye contact again, "perfect… Just lonely. Sit?"
I can hear the question mark after the word, but the look in her eyes is making it feel like an order. I look around the cafe and notice that all the other tables left. I sit down, slowly, afraid I might startle her. She looks like a dove that could scatter with a single pebble thrown at her.
"You don't see it do you?"
She looks at me, but not like before, almost past me, to another world, another universe. Her eyes get really big, horribly big as she sees something, only she can see, just over my shoulder.
"See what?" I ask, imitating her soft voice, once again, scared of startling her.
"All the souls… Hanging out here… They want to go… But they don't know where… I should help them… I tried… That's why… They needed an out… I was helping…" She's talking in short, nonsensical sentences.
Then she touches my hand and look up into my eyes. For a second it was just her and me and then as she blinked, the whole cafe filled with people. Not people, actually, these semi-solid floating figures. All sad, some still suspended in the act that caused their death, others just hanging, not sure what to do, where to go.
I look at Grey Eyes, and turn around, trying to look for Clare, but I can't see anything through the figures. 
"Why do you see them? Why do I see them?"
She looks at me, her head cocked to one side, like she's trying to understand my question and then her reply comes, almost inaudible.
"Because I killed them…"
This was one of those stories that started as one thing, and then escalated, very quickly in to something else with no control…
It's not my best work, but I was just sick of writing love stories, and I wasn't in the mood to write a tragic story. So I made her a murderess… I might just be certifiable after all =]
Love always,
M*